Join us for Sunday Worship!
Each service is comprised of a combination of music, teaching, and prayer. Our Senior Pastor, Bryan Blackwell, preaches the majority of our services. Regardless of who preaches, the sermon is based on the same Bible verses for both services.
Worship Services
8:30 AM & 11:00 AM
11:00 Worship is blended in musical style, and 8:30 Worship is traditional.
LIVESTREAM
11:00 on our church website.   Archived later on YouTube.
Everyone is Welcome at FBC
Sunday morning worship services at First Baptist Salisbury are open to all regardless of age, gender, religious belief, disability, handicap, race, or ethnicity.
You're free to sit in any available seat on the main floor or in the balcony.  If the service has already begun and you need assistance finding a seat, an usher will help guide you.  Dress comfortably.  We want you to be at ease.  No matter what you wear, you won't be alone.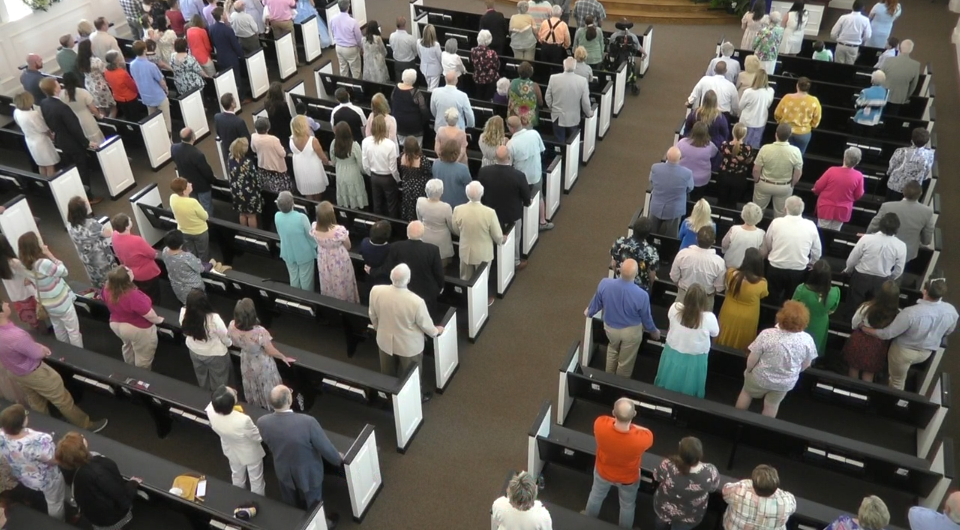 Other Weekly Ministries

First Baptist Salisbury has the ministry for you. Browse through our ministries and discover what's a right fit for you:
Children are an important part of First Baptist. We provide quality care in a secure environment, where sharing the love of Jesus is our main objective. During our 11:00 am service, classes are available for children from birth – Kindergarten. Bible study classes for all ages start at 9:45. Ask any of our friendly volunteers to direct you to our preschool and FirstKids area to safely check-in your child/ren. We look forward to your visit!
Persons with Special Needs
We have a special team (Access Ministry) that serves you and your special needs child/adult so you know you are welcomed and loved.  We'll work with you to provide the appropriate level of assistance needed for that person so they can learn about Jesus in a loving and safe environment while you attend Bible study.  Before your visit with your special needs child/adult please contact Jtan Whisenant at jtanww62@gmail.com for more information.
We offer solid, practical biblical studies in an engaging atmosphere for middle school students at 9:45. Middle school and high school students meet in separate groups in the First Ministry Center across the street from the Main Sanctuary. Once you enter the building the Youth Ministry area is immediately to your right.
First Baptist offers on-site parking for our services and special parking with those with physical challenges. A limited number of spaces are available on Fulton St. in front of the church. Additional spaces can be found in the parking lot that adjoins the First Ministry Center, and the lot behind the Sanctuary that you can access from either Liberty St. or Council St. Plan on arriving 10 minutes before your desired service if you plan on checking your children into childcare or a class.
Physical Disability/Handicap
We offer several locations in our Sanctuary for wheelchairs and for those needing additional space. Please see one of our ushers for assistance or stop by the Information Desk in the Lobby of the Sanctuary for help. Handicap parking is available at the main entrance in front of Fulton St. as well as spaces behind the sanctuary that you can access via Council St. or Liberty St.
If you have any questions about our church, please send us a message below and we will be in contact with you.
"*" indicates required fields
Our goal is to encourage, empower and equip fellow believers to fulfill God's mission through His church, through the proclamation of God's word and being a shepherd of His flock, seeking God's heart and casting His vision for the future of this faith family.